This is the context of an open conversation between the Chilean artists Ana Catalina Vicuña and Vicente Gajardo in relation to Vicuña's latest exhibition 'Tides'.
"Working with my hands, that's the mantra that soothes my deepest doubts and fears. Day after day I come back to the start, looking for the void, clear up and calm my mind... That way, in a constant fluctuating cycle, once again I repeat this action, it is my infinite habit."

This extreme magical land, a place where nature is protagonist and by design of it, humanity dwells, lives, grows, dreams and dies as in any place of the world; human being coexists fully with nature, in all the extension of this beautiful island, in its long and wide territory. It is this place, a territory of diverse landscapes, all of them rough, soft, fluid, overwhelming and magical, that humanize its inhabitants; of abrupt cliffs and undulating plains, of dense forests, rivers, wetlands and infinite oceans that extend beyond the gaze of its dwellers.
Here the air is more air
the green becomes greener
the water more watery
and the light more pristine.

The humid and fanciful clouds
make up the changing landscape of the island.
mobile vapors charged of sweet maple
green the forests
the grazing lands
the meadows even greener.

The wells and rivers are filled in their abundance.

An open clear sky
nests stars still unnamed,
a lost sailor gazes at the firmament in the middle of the ocean.
A woman in mainland
looks up to the sky and wonders before everything
from the humility of her nothingness.

Who am I? Who are we?
and what have I come to this earth?

These are questions yet to be answered
like the coastal rocks
as old as they are true
mute witnesses of all ages.
Detail watercolour on paper / 64 x 96 cm

Vicente:
I understand that this is your second time living in Christchurch, New Zealand. What brought you to Christchurch, thousands of kilometers away from Chile, your native country?

Ana:
After a year and a half living in this place, I'm still surprised by living here. I can't explain what brought us. We had a memory of this place, that was beginning to fade with the years. Christchurch was for us a chapter of the past. However, an idea sprouted, a strong impulse that moved us, something totally unexpected. A fact that even I consider strange, coming from someone so structured and meticulous like me.
When thinking about leaving Chile, there surged infinite subjects that needed to be solved, the list was so long, that sometimes I doubted we would go. But little by little, this eternal list began to decrease and everything began to flow. When our departure was settled, we felt a profound peace, something clearly told us that it was time to move. It wasn't only our achievements, I am certain that a superior force brought as here again.





Vicente:
How has your physical and visual relationship been with this new landscape? Does it remind you from somewhere in your country?


Ana:
They say Chile and New Zealand were once connected sometime in prehistory, that explains the likeness of the landscape and vegetation, especially with the southernmost areas in our country. However, I personally feel a connection between this place and the Easter Island, its steppe, its fresh and humid air, the powerful presence of the sea, the immense sky, its isolation, a corporal and mental sensation of being far from everything. Both in the Easter Island and here, you sense the environment as the protagonist, human beings as the secondary characters. The clouds, breeze, rain, waves and pastures raise their voice, to hear them I have slowed my course. Stepping slowly, from my smallness, I confront myself every day against the unfathomable landscape that surrounds me.





Vicente:
From what I have perceived from the photos you sent me, your new proposal has to do with the landscape, the isolated territory where you currently reside, a humid landscape, watery, hence the use of watercolour, both a synthetic and mystic landscape, as if everything was floating or about to disappear, how did you reach that limit of intimacy and proximity with the landscape?


Ana:
I think I reached that intimacy limit by my own nature. The firsts months here in New Zealand, I felt floating, anguished and lost, stepping on loose lands. It was that instability that brought me to experiment, watercolour seemed the right medium, surrounded by water, it was a way to accept my own reality. I tried with different papers, watercolours, plenty of water, little pigment, I began to be interested in making work that is barely perceptible. The brushstrokes became a necessity, my best company, my space and refuge. That way these territories were conceived, these sheets of paper took in my dark days and my bright days, my uncertainties and certainties.





Vicente:
It gives me the impression that these last works on paper were made from inside your studio, where it seemed that you looked at the exterior landscape from a window and considered the space grid of it, to re-build some of your compositions and give importance to each and every one of the works. Are photography and drawing in situ part of the process of your work?


Ana:
I admire photography and drawing deeply, however, they are disciplines foreign to my practice. My studio is on a second storey and I only have a very small window, my light and guidance. I'm interested on the light that enters, its weight and temperature, a light that changes depending on the time of the day, the weather and season of the year. I work with few elements, only one colour, only one brush, I get rid of my things to reach the essential. And there I begin, day after day, in silence, without knowing where it will take me, the results are always a mystery.





Vicente:
To reach a final result we have to dissuade the thousands of doubts we have beforehand, both the human and artist frights, that seem to go away when turning on the light of confidence until they reappear, but bless those doubts that elevate us to that permanent inconformity that makes us reconsider something different every day. How do you dissipate your doubts? Are you satisfied with the achievements you have made so far? What are your dreams for the future?


Ana:
Bless the doubts that keep us alive! Working with my hands, that's the mantra that soothes my deepest doubts and fears. Day after day I come back to the start, looking for the void, clear up, calm down the mind. After years of doing this, I have realised that repeating a single act over and over, I experiment that yearned mental state. That way, in a constant fluctuating cycle once again I repeat this action, it is my infinite habit. It is when I reach a certain confidence with my work that I want to present it and exhibit it to the public. There are always two assessors inside me, the one who is eternally discomforted with the work and the optimist, in this opportunity the optimist won the battle, and in June "Tides" will be presented, at PG Gallery, Christchurch. Thinking of the future I have plenty of ideas, but that could be the topic for another conversation,… for now, I confess that the first thing that comes to mind is keep "doing", and stay alert, sensible and permeable to the beauty that surrounds me.





Vicente:
I have a feeling that this free and privileged determination of living for sometime in Christchurch has allowed you to settle in a different way than of an immigrant, even foreigner, because you possess yourself as a local artist, with the body, mind and sight changing that human experience into something much more profound with the place where you live. How do you manage to express in your works the place's atmosphere while synthetizing the vastness of the landscape?


Ana:
New Zealand is a multicultural country, where you face the 'different' daily. That diversity in the landscape, is a diversity that is also seen in the different cultures that coexist and generates a tolerant and respectful atmosphere. In this vast environment, where everyone has a space, is where I have had the privilege to live. As an artist I have felt light and free. This nature goes through me, I don't try to capture it, my exercises are insignificant in relation to it, I still have a long way to go.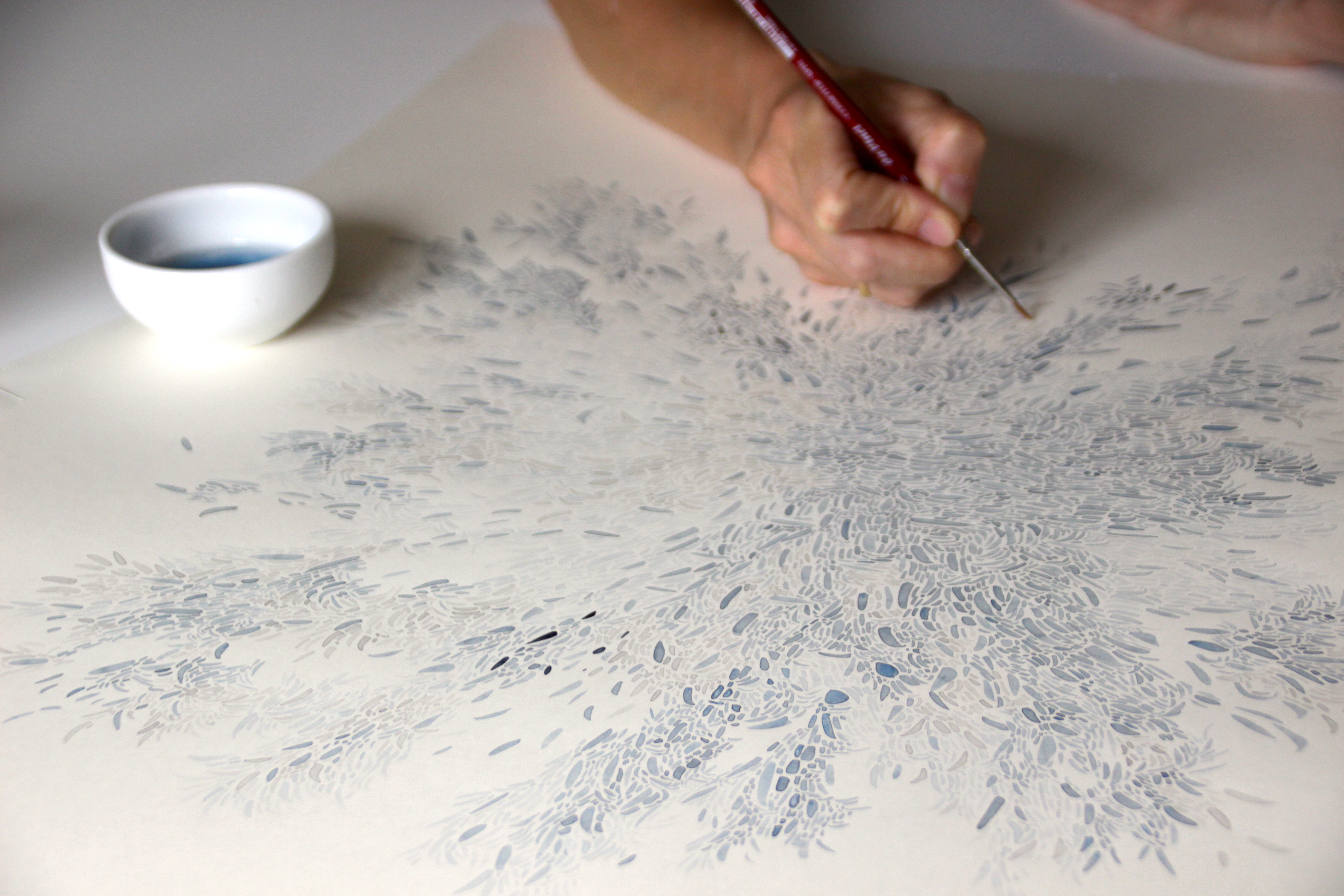 Watercolour on paper / 48 x 64 cm